The 5Rhythms® movement meditation practice has been my primary spiritual and self-development practice for almost twenty years and I trained with the late Gabrielle Roth to become a teacher in 2005. In 2013 after several years of teaching the Waves or 'physical embodiment' level of the practice, I trained with Gabrielle's son Jonathan Horan to teach the Heartbeat level, the path of emotional embodiment and liberation. Both levels offer a path of embodiment and liberation from our fictitious self. Through consistent practice we develop an increasing level of ease with all of life's ups and downs, not through escaping anything but conversely by facing and moving through all that each moment offers. There are three levels of relationship that exist on the dance floor and in life: the relationship with self, with other and with the group or 'whole', and in the practice of 5Rhythms® all three offer us unlimited opportunities for expanding our capacity for life and touch the freedom that it offers us in each moment.
Our bodies by definition are limited, yet it is through these very limitations that we get to touch into the freedom that we are. We do this through letting go of attending to the thinking mind and instead we consciously allow the dance that is already dancing to dance! In welcoming the perspective that the dance is already dancing, we naturally allow it to grow, change and explore itself through the medium of the body and breath. It's as if we 'step out of the way' and in doing so allow the body and breath to find their way to an experiential sense of liberation that the mind can never access. It is not that the mind is imprisoned, it is as free as the stars, but its mechanism is one of duality or subject/ object. It simply cannot access the non-objective freedom that it is made of until it dissolves into the dance. This dissolution is the third rhythm of chaos which for many years was Gabrielle's favourite rhythm. If we have truly experienced the physicality of the body through the first rhythm of flow, and expressed it wholeheartedly through the second rhythm of staccato, we are ready to offer the body to the bigger Dance in a way that is safe and effective. If we have practiced in a way that respects the body's natural limitations, we can be more ready for the great freedom that the rhythm of chaos can bring. In chaos we hold onto nothing, not even the head. We let the dance dance itself back into health, and we fall naturally into the fourth rhythm of lyrical in which we are no longer bound by the old tensions and inner restrictions that used to move and breathe us. In the fifth rhythm of stillness we get to experience the profound connectivity of all things; we get to move from a place of deep peace, happily forgetting the things of life and instead accessing the very place we all long for. 
The benefits that we get from touching this freedom are immense. Permission is absolutely key: we always begin where we are, perhaps stiff and achy, maybe even heartbroken; perhaps vibrant, excited, or even ecstatic. By being true to how we are in each moment we inspire each other into a greater authenticity and natural originality; and when we align with our inner groove, whatever it looks like, we align with the natural process of change. Of course everything is always changing (that is the very nature of things) but sometimes in life things feel stuck. In the dance we get to gently nurture these parts into fluidity again, whether they be physical or emotional. We offer our breath to the whole experience, thereby giving life and permission for an enriching and transformative experience.
5Rhythms® is an experiential practice. There are no steps to learn and the practice is open to anyone who has the willingness and courage to enter into the 'now' that the moving body offers us. We dance mindfully and in the spirit of compassion for the world and for our unique breathing selves. Through our practice we become more spontaneous and alive & learn to trust ourselves more. We open up to new ways of being in the world that we never thought existed before we took the courage to dance. I warmly welcome this courage and wholeheartedly invite you to let go of what is ready to be released by following your heart and your feet to the 5Rhythms® dance floor.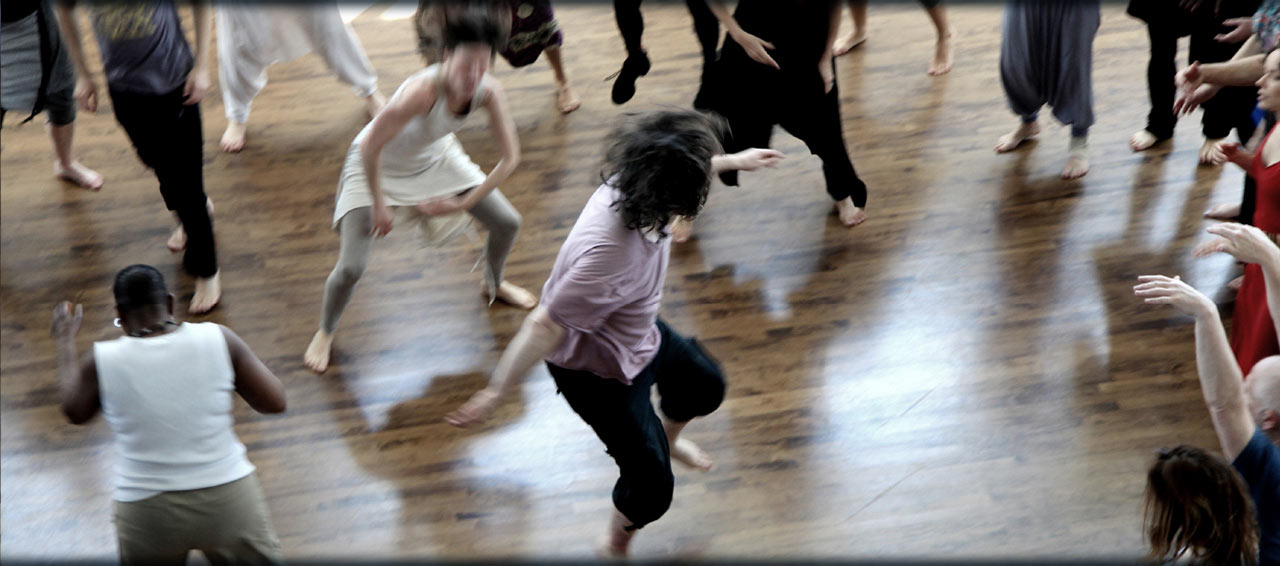 Testimonials
"During Francis' session I danced blissfully, and in the beautiful space that opened up within me I had a realisation that has brought great richness to my life. He created a wonderful thing for the group – a great space to let yourself go, express, be, energise, meditate, dream, discover, expand. It was a great step along my journey."
Cathy Hilton
"I found the sessions you led to be a wonderful blend of earthy and ethereal, and you held the space with a tenderness and presence which I have rarely experienced. The result was an ecstatic and transformative experience. I do hope we will have the chance to meet again!"
Sean Greenaway
"It is already a few weeks back but I just wanted to thank you for the sessions you lead at the Valentine's weekend in Croydon Hall. It had been ages (like years and years) that I had done any 5 Rhythms and your music and guided meditation certainly took me through my body, allowing myself 'to be danced' – a bit of a trance – wonderful. If you had a class in London, I'd be a regular!"
Martine Collumbien
"Our introduction to 5 Rhythms through your superb session could not have been better. We were a bit unsure before it started and were hoping it wasn't going to be too 'new age'. As it turned out, the approach you took was fabulous. The musical choices were varied and many, ranging from 70's soul and R&B through to more electronic stuff and a few very mellow songs from beautiful singers. They all worked exactly with the moods you were trying to create and the energy you were tapping into. We also enjoyed the guidance you gave as we danced….not too intrusive and nicely timed to steer us in the right direction… …We'd recommend 5R's to anyone of any age who wants to just dance and express themselves. It clearly doesn't matter how fit you are nor whether you have any traditional dancing ability (we are in our 50's and were able to do 2 hours without a real break, but could relax our pace when we felt like it). It's a shame you aren't local to us, but we have started looking for other sessions and will be attending one on Saturday (hope it's as good as yours)."
J&L , Home Counties UK